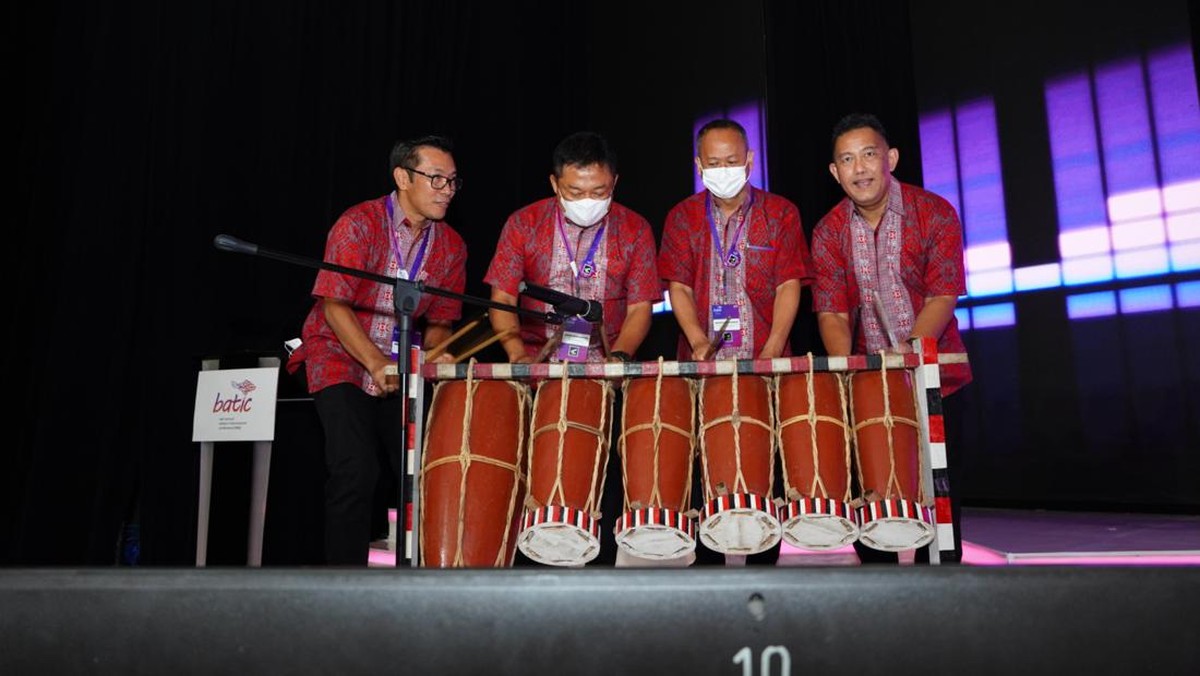 Jakarta, CNBC Indonesia – Konferensi internasional Bali Annual Telkom International Conference (BATIC) 2023 akan kembali digelar pada 5 hingga 8 September 2023, di The Westin Resort, Nusa Dua, Bali, Indonesia.
Acara yang disajikan Telkom lewat PT Telekomunikasi Indonesia International (Telin) itu, rencananya bakal dihadiri sejumlah bos-bos besar dari berbagai perusahaan Telekomunikasi dunia.
Lalu siapa saja nama besar yang akan hadir dalam acara ini? Berikut daftarnya:
1. Presiden Director Telkom Indonesia, Ririek Adriansyah,
2. Direktur Pengembangan Bisnis Telkom Indonesia, Honesti Basyir,
3. Direktur Pengembang Bisnis Digital Telkom, Muhammad Fajrin Rasyid,
4. CEO Telin, Budi Satria Dharma Purba,
5. Senior Managing Director Delta Partners, Sam Evans,
6. Direktur Marketing Telkomsel, Derrick Heng, 7. Senior Managing Director Delta Partners, Vincent Stevens,
8. CEO Console Connect PCCW Global, Marc Halbfinger,
9. Head Axiata Group Wholesale, Obaid Rahman,
10. Chief Network Operations & Wholesale Officer TIM; President, TI Sparkle,
11. Chair of GLF, Elisabetta Romano,
12. Chief Technology Officer, Console Connect PCCW Global, Paul Gampe,
13. Group Chief Carrier and Wholesale Officer, e& Nabil Baccouche,
14. Vice President and Head of Market Development, Mastercard Indonesia, Hamid Farid,
15. Founder & CEO, Satoshi Twenty One, Web3 Hub Bali, Melissa Kurtcan,
16. Head of Asia, Zoom, Lucas Lu,
17. CEO of Global Business, Airtel Business, Vani Venkatesh,
18. VP of Sales Region Middle East & Africa, Sparkle and Managing Director Sparkle Singapore, Leonardo Cerciello,
19. CEO, Voice & Mobile Data iBasis, Edwin Van Ierland,
20. Chief AI Strategist Microsoft, Manprit Singh,
21. Strategic Leader, Chief Product Officer Vidio, Hadikusuma Wahab,
22. Managing Director, Head of Technology, Media and Telecom, SE Asia & India, HSBC, Ajinkya Mukhopadhyay,
23. President & GM, APJC, Cisco Service Provider Business, Sanjay Kaul,
24. Vice President of Sales Vox Solutions, Pavel Salatiuk
25. Director & Chief Business Officer Indosat Ooredoo Hutchison, Muhammad Buldansyah,
26. Vice President of Global Network Infrastructure Akamai Technologies, Gavin Tait,
27. Associate Vice President, Tech Mahindra, Prashant Singh Parihar, dan
28. CTO, Platform Department China Mobile International, Steven GAO.
Seperti diketahui, BATIC telah memasuki penyelenggaraan ke-8 tahun ini. Sebelumnya, BATIC 2022 telah sukses dan berhasil menghadirkan lebih dari 650 peserta dari 190 perusahaan global yang berasal dari Asia Tenggara, Asia Timur, Amerika Utara dan Tengah, Eropa, Timur Tengah, dan Australia.
Senior Vice President Corporate Communication & Investor Relation Telkom, Ahmad Reza mengatakan, Event BATIC 2023 ini merupakan wujud komitmen TelkomGroup dalam mempercepat transformasi digital, tidak hanya di kawasan domestik, tetapi juga di kancah internasional.
Adapun BATIC merupakan forum telekomunikasi internasional yang ditujukan pada komunitas telco global sebagai platform untuk saling bertemu, berdiskusi, membangun networking, dan berkolaborasi.
"Gelaran ini juga menjadi ajang showcase dan kolaborasi para pemain telco untuk bersama-sama menciptakan inovasi. TelkomGroup bersama dengan telco global lainnya akan mendiskusikan tren dan isu terkini, lalu kita adopt dan brainstorming untuk menghasilkan inovasi yang tentunya bermanfaat untuk masa kini dan masa depan," ujarnya Sabtu, (2/9/2023).
[Gambas:Video CNBC]

Artikel Selanjutnya

Alasan Telkom Kumpulkan Raksasa Telekomunikasi Global di Bali
(dpu/dpu)